Drammen station
Drammen station is along Drammenbanen line. Train services to major parts of Eastern and Western Norway. Drammen is the terminus of Airport Express Train from Oslo Airport Gardermoen.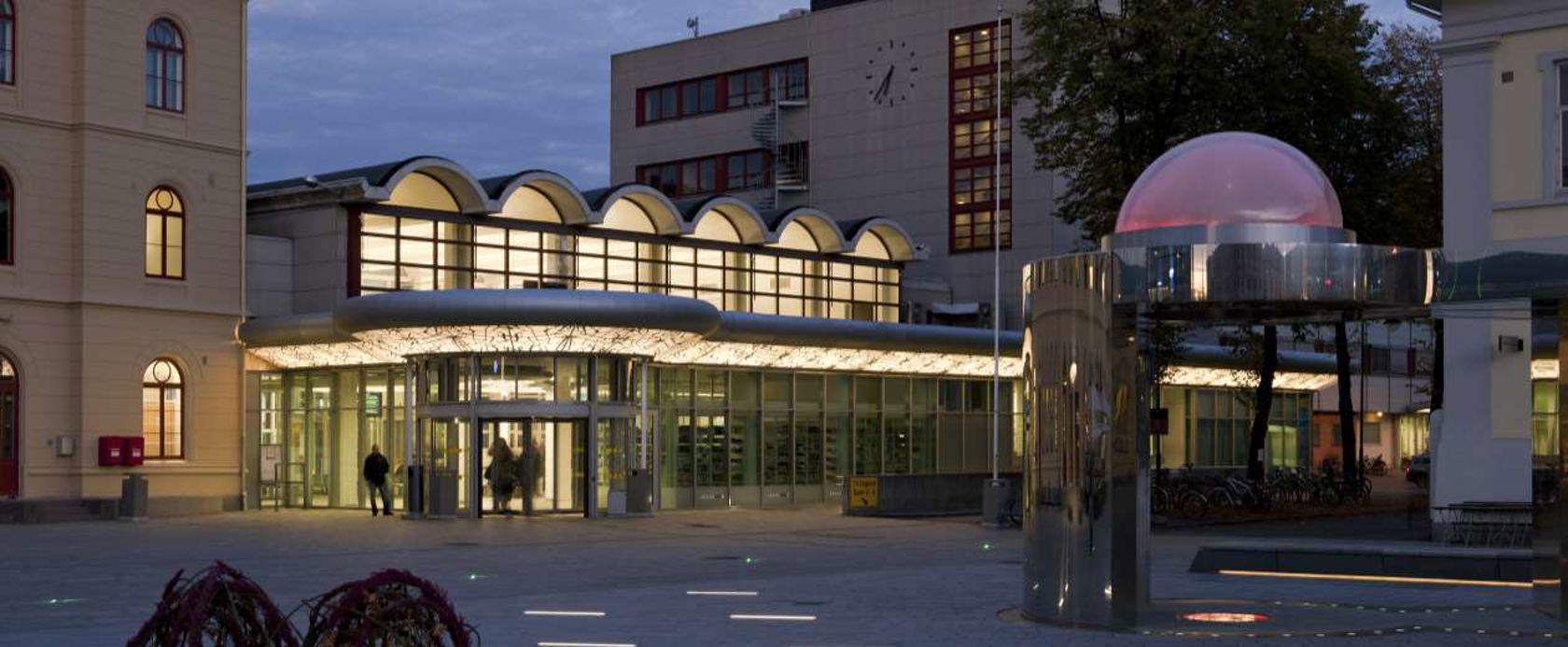 Travel planning and tickets online
Plan your journey and buy your ticket on the train companies' websites or the national travel planner Entur.
Ticket sale
Ticket vending machines are available (traveling with VY). At the Airport express train, it is possible to use a credit card as a ticket.
Airport
Airport express train to Oslo Airport, Gardermoen every 20 minutes.
Bus
Local bus-services depart from the bus-station close to the station.
Car rental
Please contact a car rental-company in advance.
Bicycle stand
Parking
Number of parking spaces in total: 331
Commuter parking
Number of parking spaces: 302
Commuter parking spaces for 250 NOK, is an offering to travelers with a valid period ticket (weekly, monthly or annual). Paid for using Bane NOR's parking app.
Learn more about commuter parking and the parking app.
Travelers with single tickets can avail of day parking spaces for 98 NOK per day (26 spaces in total). Max 72 hours.
Please note that signage in parking areas apply.
Bicycle parking
Gaining access to Drammen bicycle hotel
Download app "Bane NOR Parkering" in the App Store (opens in a new tab) or on Google Play (opens in a new tab) . Agree to terms and register payment method. Access is connected to your mobile telephone and applies to only one bicycle hotel.
Once you have agreed to the terms, pres "LÅS OPP" to open the door to the bicycle hotel.
Please note: the door may take up to 30 seconds to open.
Access costs 50 NOK and lasts for 30 days. Your subscription will be renewed automatically when this period expires. You will be notified by SMS before your subscription is renewed.
For questions, please contact Bane NOR's customer service center by telephone on 05280
Parking (HC)
Access to platform (HC)
Elevator (HC)
Other adaptations (HC)
Wheelchair ramp for access to local trains class 69.
WC (HC)
Wheelchair ramps to platform
ATM
Elevator
Platform shelter
Refreshments
Kiosk and restaurant.
Storage Boxes
Waiting room
Open to all train departures.
WC
Wifi
Telephone
Drammen station opened in 1866 in connection with the completion of Randsfjordbanen line. Drammen is the terminus of the Airport Express Train from Oslo Airport Gardermoen.
Train directions
Stavanger
Kristiansand
Arendal
Bergen, Skien
Oslo S
Lillehammer
Hammer
Eidsvoll
Oslo Airport
Kongsberg
Dal
Location
Distance to: Oslo S 42 km
Municipality: Drammen
Line: Drammensbanen
MASL: 2
Information about the station building
Architects: MMW Arkitekter
Year of construction: 1866
The station is protected