Bergen station
Bergen station is located on the Bergenbanen line. Train services to Oslo S, Voss, Myrdal / Flåm and Hallingdal.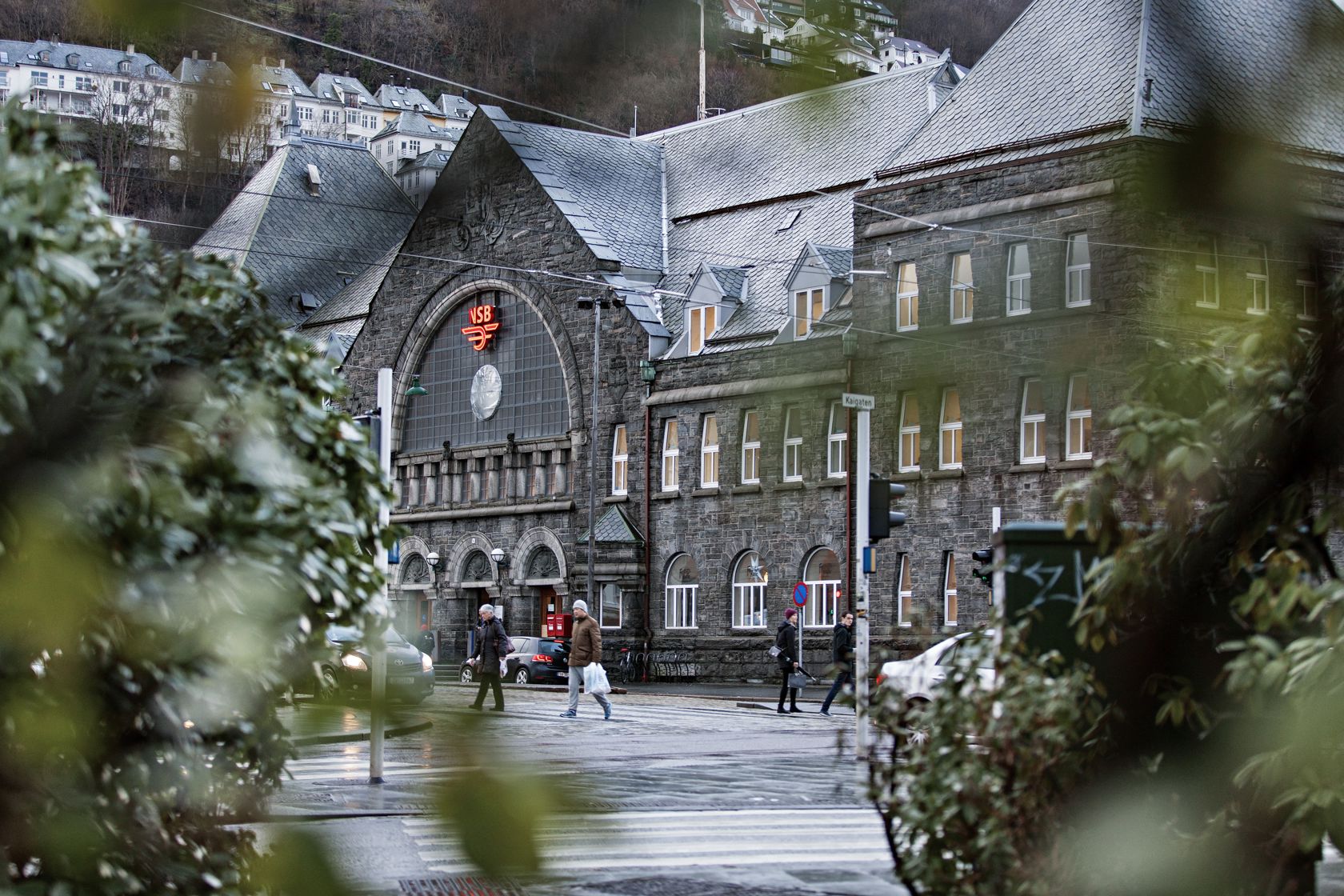 Travel planning and tickets online
Plan your journey and buy your ticket on the train companies' websites or the national travel planner Entur.
Ticket sale
Monday - Friday: 06.45 -19.30
Saturday: 07.30 -16.00
Sunday: 07.30 -19.30
Please note that opening hours might be changed during public holidays and vacations. Ticket vending machines are also available.
Bus
City-buses and tram-halt are situated in connection to the station. It is also possible to take the tram to Bergen airport, Flesland.
Car rental
Please contact a car rental company in advance.
Taxi
Bicycle stand
Parking
Parkin-house 200 meters from the station. (fee)
Bicycle parking
Gaining access to Bergen bicycle hotel:
Download app "Bane NOR Parkering" in the App Store (opens in a new tab) or on Google Play (opens in a new tab) . Agree to terms and register payment method. Access is connected to your mobile telephone and applies to only one bicycle hotel.
Once you have agreed to the terms, pres "LÅS OPP" to open the door to the bicycle hotel.
Please note: the door may take up to 30 seconds to open.
Access costs 50 NOK and lasts for 30 days. Your subscription will be renewed automatically when this period expires. You will be notified by SMS before your subscription is renewed.
For questions, please contact Bane NOR's customer service center by telephone on 05280.
Access to platform (HC)
Assistance service
Please use phone number +47 477 70 098 , or order by e-mail: assistanse@banenor.no
Other adaptations (HC)
The station is equipped with a mobile ramp for wheelchair users. This is served by the conductor and gives access to trains on demand.
WC (HC)
ATM
Hotel
Grand Hotel Terminus is located close to the station.
Luggage trolley
Platform shelter
Refreshments
Cofee-shop and kiosk.
Storage Boxes
Waiting room
Open to all train departures.
WC
Bergen railway station opened in 1913, four years after Bergensbanen line was put into use.
The station building was designed by architect Jens Zetlitz Monrad Kielland, who won the architectural competition announced in 1900.
Train directions
Oslo S
Voss
Myrdal / Flåm
Hallingdal
Location
Distance to: Oslo S 471 km
Municipality: Bergen
Line: Bergensbanen
MASL: 4
Information about the station building
Architects: Jens Zetlitz Monrad Kielland
Style: Historicism/Art Nouveau
Year of construction: 1913
The station is protected
Medieval inspired railway station
The station consists of a large transverse block on the entrance side and two smaller ones on each long side. Together, they form a U shape around the built-in platform vestibule.
The building was given a free medieval-inspired design with a number of historical details. We find both the Norwegian lion, formerly NSB's vane, Bergen Castle and a Viking ship in the "tympanum" fields.
Above the portal-like front door is a steam locomotive with a snow plough.
The building material was hewn gneiss extracted from a quarry in Vaksdal.
The station building is protected under the Cultural Heritage Act. At the station, there are ticket sales in addition to several ticket machines. There are rooms for storage and public toilets.
Refurbishment of Bergen railway station
In 2015, the station was refurbished to make it more accommodating for travellers. There is new lighting in the entrance vestibule, platform vestibule and passageways.
There are new service points for ticket sales and security in the platform vestibule and the jungle of signs has been cleaned up. The floor in the entrance vestibule has new tiles, and the walls and archways have been repainted. New benches have also been set up in the various areas.